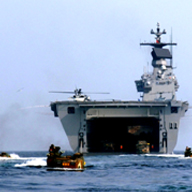 Services
Woojung Marine is an engineering and technology applications company that uses its wide range of knowledge to solve problems of essential importance to the domestic and the overseas market. Our commercial segment provides technology-driven consulting, systems integration and outsourcing services and solutions in selected commercial markets.
---
The ROK Navy (ROKN) is the of the South Korean armed forces responsible for conducting naval operations and amphibious landing operations. The ROK Navy includes the Republic of Korea Marine Corps, which is a quasi-autonomous organization. The oldest service in the ROK Armed Forces, the South Korean navy celebrated its 60th anniversary in 2005.
Woojung Marine provides a full spectrum of solutions to complex engineering and operational requirements and issues. Our in-depth understanding of our client missions, in conjunction with the strategic location of our employees, enables us to offer cost effective solutions tailored to our client's specific requirements and to be consistent with their evolving mission objectives.
Woojung Marine is uniquely positioned within the maritime industry to provide the full range of equipment services for our customers.
Woojung Marine is beginning the field of offshore to encompass a wide range of equipment and technologies that are required to explore, drill and develop offshore oil and gas field.